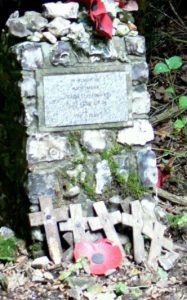 Hidden deep in the woods on the hill in Philliswood Down is a small memorial stone to Hauptman Joseph Oesterman a German pilot shot down and killed in 1940 during the second world war.
A vehicle run was organised to visit the marker with the permission of the National Trust and the land owners West Dean Estates.
Covering 35 miles through the leafy lanes of Hampshire the run started at Portsdown Hill, through small lanes to Harting and Treyford before going off road and climbing the North side of the South Downs. Part of the route traversed the South Downs Way where the stone is positioned.
Close by are five Bronze Age burial mounds, known as 'The Devils Jumps' so the opportunity was taken to explore these before descending over deep rutted lanes into the Hooksway on the Petersfield to Chichester road.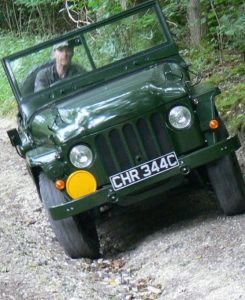 Jeff, being the daredevil of the group, decided to go last in his Champ making sure that all the other Jeeps could negotiate the terrain
All members enjoyed the run in the sunshine and blue sky. Notice of the run was short due to the start of the shooting season but it is proposed to repeat the run again next Spring with more notice to all members.
By Myrddin Evans