Arriving at the gate and opening it, a whole year has past since I done this last.
It's time for the Brickworks to open its gates to the vast array of military vehicles, classic cars, steam train, traction engines and assorted others.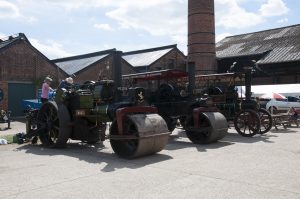 0900 and the blood starts pumping. Will everyone turn up? Will it be a great show like previous years?
No time to think about it the military and classic cars are starting to arrive. We have the grassed area this year to fill, nice and shaded under the trees.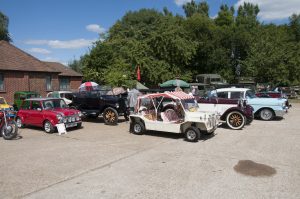 First to arrive are the Military Munga's closely followed by Ste's Reo, which is my personal favourite. A few seconds to breathe and more arrive, Chris with his Jeep dressed to impress!
Just to be awkward, a Jeep arrives at both gates no names mentioned. Flashing blue lights and a siren Lord Tim has arrived with his IItis in Feldjager trim followed by Trevor in his Desert Jeep and finally the British arrive Morris Commercial, an Austin Champ and a Land Rover 90.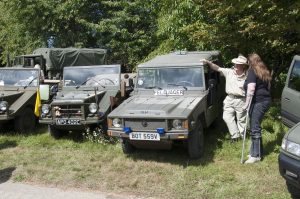 It's a beautiful hot day and everybody is here ready for the public with their questions and camera's. Cori is off taking photo's for the SOE website for all those who could not make it on the day.
There was a book jumble and other craft stalls and you could even make a brick or ride in coach pulled by a traction engine. It was a friendly atmosphere all round and a great day chilling with all the owners of all vehicles right across the board. The museum was open and free to wander around, the cafe is A+ and not expensive either.
Everyone had a great day no complaints even from the public. The Brickworks sent me an email the next day; Thank you to all the military owners that displayed their vehicles at the show, it was fantastic to see all the vehicles on display. Public response was very good and the feedback was that the day was fantastic and well worth all the hardwork everyone put in.
Looking forward to seeing you all next year.
By Thelma Layton
For more pictures of this event visit the gallery page.