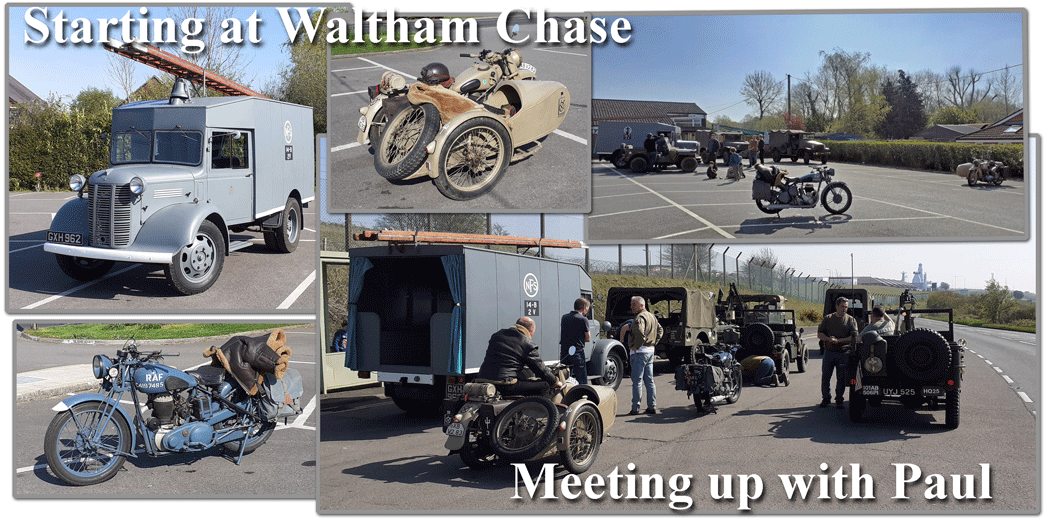 The plan was to meet at the Waltham Chase village hall car park at around 10.00 am on the 16th of April. As the weather was looking nice I suggested to Chris that we take the motorcycles rather than the Jeeps. We arrived a bit early but soon after Bob turned up with his Fire service Austin. This gave us time to have a good look at the Austin, all credit to Bob for such a rare and well restored vehicle. The others turned up lead by Richard in his Dodge with Oliver riding shotgun. Unfortunately Lucy was unable to join us as her BSA M20 was not ready for the road yet.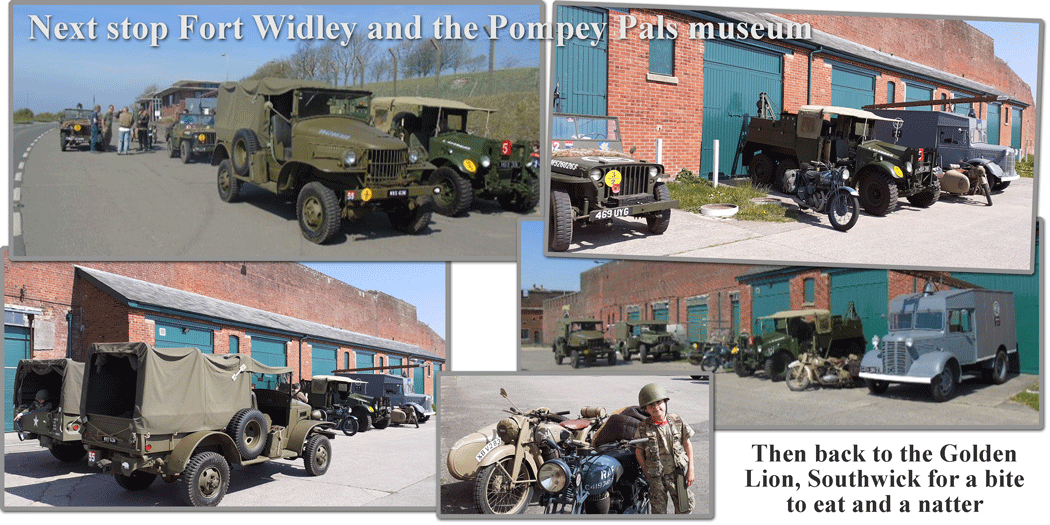 After a bit of a chat we formed up and headed out towards Wickham, Chris riding tail end Charlie had a slight problem with his DKW and was lost from sight for a while but soon caught up. Richard lead us on a nice country lane route to the top of Portsdown hill where we met up with Paul in his Morris CDSW breakdown truck. We then headed to Fort Widley where Richard had arranged for us to visit the Pompey Pals museum. As a Great War enthusiast I must say it is a very good and interesting museum and well worth a visit. I have placed a link to their website at the bottom of the page. We lined the vehicles up for a photo shoot outside the fort before deciding that a bit of food and a drink at the Golden Lion in Southwick would be a nice way to end the day. It was at this point Chris Salter's Dodge WC lost all power and needed a jump start and my M20 started then stopped but then started and off we went in convoy to Southwick.

A few days later at the SOE's April club night at Waltham Chase village hall Chris Pennycook from Pompey Pals was our guest speaker. He did a very interesting talk and had a plethora of information on local heroes from WW1. If you are not a member why not come along to one of our club nights and join, you can then come along on our friendly road runs and of course benefit from many other things as a member.